'Golden Girls' leading lady Rue McClanahan dies at 76

June 3, 2010 | 12:49 pm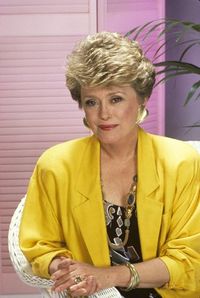 Rue McClanahan, who died Thursday, won the Emmy Award in 1987 for starring as the vivacious Blanche Deveraux on the classic sitcom "The Golden Girls." As the man-eating Southern vixen, McClanahan found the leading role of a lifetime after decades as a supporting player.

As McClanahan discusses in the TV academy archive interview below, she was approached to play the naive Rose, but she and Betty White swapped parts before the first table read. McClanahan was instrumental in convincing her pal Bea Arthur to play the tart-tongued Dorothy while stage vet Estelle Getty was cast as Dorothy's diminutive but domineering mother, Sophia.

"The Golden Girls" was an instant hit when it debuted on NBC in fall 1985 and won best comedy series at the Emmy Awards in 1986. That night nominees Arthur and McClanahan watched as White won the lead actress Emmy. McClanahan would be the victorious one among the three the following year with Arthur finally winning the race in 1988.

As Getty also prevailed in the supporting race in 1988, "The Golden Girls" became only the second TV show -- after "All in the Family" -- to have an entirely Emmy-winning cast. ("Will & Grace" would become the third such show when Debra Messing finally won her Emmy in 2003.)

The three leading golden girls were all nominated again in 1990 but lost to Candice Bergen, who picked up the first of her record five Emmys for "Murphy Brown." Only White would continue to contend for the last three years of "The Golden Girls." The show, which had repeated in the top race in 1988, lost its following four bids for best comedy series.

McClanahan first came to fame in the 1970s as the dim-witted Vivian on "Maude" opposite Arthur in the title role. After Arthur ended that show in 1978, McClanahan starred that fall in "Apple Pie" -- another creation by her good pal Norman Lear -- which was canceled by ABC after only two airings. She had a recurring role on "Mama's Family" for several years before "The Golden Girls" came along.

After the end of that series after seven years when Arthur again bowed out, the remaining trio starred in "The Golden Palace," but the magic was gone and the show was axed after one season in 1993. Since then, McClanahan guested on various TV shows and returned to her stage roots, earning acclaim for appearances in a revival of "The Women" and in the long-running hit tuner "Wicked."


http://goldderby.latimes.com/awards_goldderby/2010/06/golden-girls-leading-lady-rue-mcclanahan-dies-at-76.html

Justice4all

Admin




Posts

: 9745


Join date

: 2009-07-02


Age

: 44


Location

: Michigan


Mood

:




Justice4all

Admin




Posts

: 9745


Join date

: 2009-07-02


Age

: 44


Location

: Michigan


Mood

:



Rue McClanahan, Actress and Golden Girl, Dies at 76

By DOUGLAS MARTIN
Published: June 3, 2010



Rue McClanahan, second from right, with her co-stars on the NBC sitcom "The Golden Girls": from left, Estelle Getty, Bea Arthur and Betty White. The series ran from 1985 to 1992.

Rue McClanahan, who helped make "The Golden Girls" a long-running television hit playing the saucy, man-devouring Southern belle Blanche Devereaux (in one scene she made a date at her husband's funeral), died Thursday in Manhattan. Unlike Blanche, she had no trouble admitting her age, 76.

Her manager, Barbara Lawrence, said Ms. McClanahan died of a brain hemorrhage at New York-Presbyterian Hospital. She was treated for breast cancer in 1997 and had heart bypass surgery last year.

Ms. McClanahan was the youngest, by at least 10 years, of the four actresses who played the Golden Girls, well-dressed, clever-tongued, over-50 women who shared a house in Miami. The others were Bea Arthur (Dorothy), Betty White (Rose) and Estelle Getty (Dorothy's mother, Sophia). Of the four, only Ms. White, 88, now survives.

The show seized the No. 1 rating its first night, in 1985, stayed in the top 10 for six seasons and captured bundles of Emmys, one of which went to Ms. McClanahan for outstanding lead actress in a comedy series in 1987.

The show, which was canceled in 1992 but carries on, profitably, in reruns, succeeded by putting smart, funny lines in the mouths of, well, seasoned women.

In one episode, Rose, a rather dense Pollyanna, wonders if it's possible to love two men at the same time.

"Set the scene," Blanche replies. "Have we been drinking?"

Some critics saw "The Golden Girls" as a progenitor of shows like "Sex and the City" (about four young women given smart, funny lines).

Ms. McClanahan had appeared in the sitcom "All in the Family," which broke ground with topical humor, and its spinoff "Maude," in which she played the best friend of the liberated, middle-aged title character (Ms. Arthur).

She also acted in movies as well as on and off Broadway. In 1970 she won an Obie for her role in the Off Broadway show "Who's Happy Now?," a family drama by Oliver Hailey in which she played the father's mistress. She reprised the role on PBS in 1975.

In her autobiography, "My First Five Husbands ... and the Ones Who Got Away" (2007), Ms. McClanahan wrote that one of her proudest moments was getting a letter from Tennessee Williams about her performance as Caitlin Thomas, the poet's wife, in "Dylan," Sidney Michaels's play about Dylan Thomas.

"Your work is that rare combination of earthiness and lapidary polish," Williams wrote, "that quality being utterly common and utterly noble. Frippery combined with fierceness."

But it was Ms. McClanahan's part in "The Golden Girls" that stands out in popular memory.

To Ms. McClanahan, "The Golden Girls" was special for allowing its women to be funny and many-sided, not stock figures, recognizing "that when people mature, they add layers," as she told The New York Times in 1985.

"They don't turn into other creatures," she added. "The truth is, we all still have our child, our adolescent and our young woman living in us."

Eddi-Rue McClanahan was born in Healdton, Okla., on Feb. 21, 1934. Her first name was a contraction of her parents' middle names. She dropped the Eddi when, mistaken for a man, she was drafted into military service after high school. She grew up in towns in Oklahoma, Texas and Louisiana as her father, a building contractor, moved around.

She made her stage debut at age 4 in a local production of "The Three Little Kittens." "A character actor even then," she told People magazine.

She was offered dance scholarships to college but chose to major in drama at the University of Tulsa. She graduated with honors in 1956.

Moving to New York to study ballet and drama, Ms. McLanahan made her professional debut in 1957 at the Erie Playhouse in Erie, Pa. On a scholarship she took a four-week acting course at the Pasadena Playhouse in California, where one of her roles was Blanche DuBois in Williams's "Streetcar Named Desire." She later said that her Blanche on "Girls" was inspired by both Blanche DuBois and Scarlett O'Hara of "Gone With the Wind."

For most of the next decade she appeared onstage in New York. She originated the role of Lady MacBird in "MacBird!," Barbara Garson's comic melding of President Lyndon B. Johnson's ascent to power and "Macbeth." Ms. McClanahan's Broadway debut was as a prostitute in Murray Schisgal's "Jimmy Shine," which starred Dustin Hoffman as an unsuccessful abstract painter.

Reviewing "Who's Happy Now?" in 1969, Edith Oliver wrote in The New Yorker that Ms. McClanahan's portrayal of an innocent, sunny waitress was a "first-rate comedy performance that is always legitimate — no hokum, nothing but truth."

Ms. McClanahan had been appearing sporadically on television and in low-budget movies when Norman Lear tapped her for a spot on "All in the Family" in 1972. She played half of a married couple who, after being invited to dinner, reveal that they are swingers.

Mr. Lear also cast her for a guest appearance on "Maude," a part that grew into a regular role as Vivian Harmon, Maude's fluttery, unliberated friend.

Brandon Tartikoff, the president of NBC Entertainment, got the idea for "Girls" after seeing statistics showing that about 37 percent of Americans were at least 45 years old. He passed the concept on to Susan Harris, a television writer who had created series like "Benson" and "Soap." She was inspired by her grandmother, who had remained active until her death at 93.

"A gift from the gods," Ms. McClanahan called her placement in the series. NBC decided to cast her against the unworldly type she had played on "Maude" and give her the sex-charged role. Betty White, who had played the man-hungry Sue Ann Nivens on the "The Mary Tyler Moore Show," was the ditsy Rose.

After "The Golden Girls" ended in 1992, Ms. McClanahan appeared in a spinoff, "The Golden Palace." She also had roles in movies like "Out to Sea," a comedy starring Jack Lemmon and Walter Matthau, and on Broadway in "Wicked." Away from acting, she delivered a lecture titled "Aging Gracefully" and campaigned for animal rights.

Ms. McClanahan is survived by her sixth husband, Morrow Wilson; her son, Mark T. Bish; and her sister, Dr. Melinda Lou McClanahan.

Ms. McClanahan, who never tired of talking about Blanche, was wise to her. Though Sophia, the dotty mother of the witty, dominant Dorothy, could be pointed, calling Blanche "Sheena, Queen of the Slut People," Ms. McClanahan saw the character differently — as a woman who mainly just talked about sex.

As for Ms. McClanahan herself, she wasn't a vamp, she told People magazine; she liked to grow tomatoes and make quilts.

Still, in her book, she offered "fun in bed quotients" for married and unmarried lovers. And she had a pat answer when asked if she was like Blanche: "Well, Blanche was an oversexed, self-involved, man-crazy, vain Southern belle from Atlanta — and I'm not from Atlanta."
http://www.nytimes.com/2010/06/04/arts/04mcclanahan.html
_________________
Updated 1/22/11

Snaz




Posts

: 4972


Join date

: 2009-07-11


Location

: Florida


Mood

:



I am saddened to learn of Rue McClanahan's death. I loved watching her on Golden Girls. That has always been one of my favorite shows. I still watch it every day even though I have seen every episode at least 5 times. I usually can speak along in my head with what the girls say.... that's how well I know their lines!
We have lost a great actress... and a wonderful person.
_________________
Updated 1/22/11

Snaz




Posts

: 4972


Join date

: 2009-07-11


Location

: Florida


Mood

:



Rue was great on the Golden Girls Snaz. It is sad that three of them are gone now. At least Betty White seems to still be doing good. She recently hosted Saturday Night Live and has a new TV series starting on TVLand soon.

Justice4all

Admin




Posts

: 9745


Join date

: 2009-07-02


Age

: 44


Location

: Michigan


Mood

:



I'm so sad to hear the news of Rue's passing. I adored her on The Golden Girls. I'm sure she's charming the wings off the angels of the male persuasion in heaven. RIP Rue...

Piper




Posts

: 10277


Join date

: 2009-07-12


Mood

:




---
Permissions in this forum:
You
cannot
reply to topics in this forum