Page 2 of 2 •

1, 2

March 24, 2011
Kayla May Berg: Nancy Grace America's Missing
Posted: 09:17 PM ET
TIPLINE: 715-627-6411
Age: 15
From: Wausau, Wisconsin
Vanished: August 11, 2009
Height: 5'2"
Weight: 109lbs
Hair: Brown
Eyes: Brown
Characteristics:
-Scar on right shin
-Small chicken pox scars on right cheek & right side of her nose
-Navel pierced, ears double-pierced

_________________
We come to love not by finding a perfect person, but by learning to see an imperfect person perfectly
March 25, 2011
Missing Woman's Husband, In-Laws Arrested For Kidnapping
Posted: 03:10 PM ET
Three arrests have been made in connection with the kidnapping of a 25-year-old Ohio mother who was reportedly abducted late Tuesday night. However, while her estranged husband and his parents are now behind bars, Summer Inman remains missing.
26-year-old William A. Inman Jr, 47-year-old William A. Inman Sr and 46-year-old Sandra Inman were arrested Thursday night on kidnapping charges, according to a Logan Police Department press release.
CNN affiliate WBNS reported that all three waived extradition from Jackson County to Hocking County Friday morning and are being held at the regional jail in Nelsonville.
Witnesses had reported Summer Inman being forced into a vehicle by two men outside the bank in Logan where she worked on Tuesday at approximately 11 pm, and a woman with bleach-blond hair was reportedly seen driving the car.
Summer Inman married William Inman Jr in 2004, but the couple was reportedly in the process of getting a divorce, and William claimed on his Facebook page that Summer's family had filed "paperwork" that kept him from contacting their three children.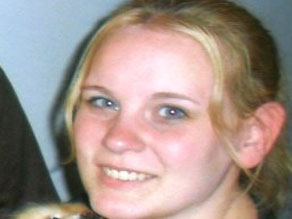 Inman also wrote on his Facebook wall Thursday that, while authorities told him he was not a suspect in his wife's disappearance, they had taken his cell phone, cars and computers and blocked his credit cards. He claimed that he had "no doubt" that he would be cleared of suspicion once his alibi was confirmed. Hours later, he was taken into custody at a relative's house in Ray, Ohio.
Summer's current boyfriend, Adam Peters, told a Nancy Grace producer Thursday that police had asked him not to make any comments on the investigation.
Despite the arrests, the search for Summer Inman remains active. She is described as a white female, 5 feet 3 inches tall, 120 pounds with brown hair and green eyes, and she was last seen wearing blue jeans and a dark-colored T-shirt with white writing. Anyone with information regarding her whereabouts is asked to contact the Logan Police Department at 740-385-6868.

_________________
We come to love not by finding a perfect person, but by learning to see an imperfect person perfectly
March 27, 2011
Jon Haynes: Nancy Grace America's Missing
Posted: 07:56 PM ET
TIPLINE: 1-303-441-4444
Age: 19
Vanished: 7/24/1981
From: Nederland, CO
Height: 5'10"
Weight: 140 lbs
Hair: Blond
Eyes: Green

_________________
We come to love not by finding a perfect person, but by learning to see an imperfect person perfectly
Page 2 of 2 •

1, 2


Similar topics
---
Permissions in this forum:
You
cannot
reply to topics in this forum