Maine police investigate 100 leads in boy's death

By DAVID SHARP
The Associated Press

SOUTH BERWICK, Maine — He was wearing a gray camouflage hoodie, tan pants and black sneakers adorned with the character Lightning McQueen from the Disney movie "Cars." He had blue eyes and dirty blond hair, and he was covered by a blanket.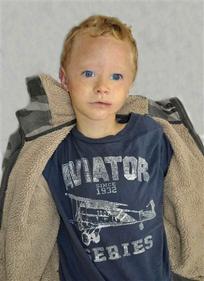 This computer generated image released by the Maine State Police Sunday, May 15, 2011, shows the likeness of a young boy found dead along a remote road in South Berwick, Maine, Saturday afternoon, May 14, 2011. The boy is believed to have been between 4 and 6 years old, less than 4-feet tall and about 45 pounds with dirty blond hair and blue eyes. He was wearing a gray camouflage hooded sweat shirt with the brand name "Faded Glory," tan pants, and "Lightning McQueen" black sneakers. There were no missing-person reports filed for a boy fitting the description, and state police appealed to the public to help identify him. (AP Photo/Maine State Police)

Maine state police Col. Robert Williams, left, and Lt. Bryan McDonough appear at a news conference Monday, May 16, 2011, outside a state police mobile command post in South Berwick, Maine to update the media on the death of a young boy found along the road Saturday, May 14, 2011. State police said they have investigated about 100 leads but so far haven't had any luck in identifying the boy. (AP Photo/The Press Herald, John Patriquin)


But police still do not know the name of a boy whose body was found over the weekend alongside a dirt road by resident who lived nearby. His age was estimated to be between 4 to 6 years old.

Two days after the startling discovery, state police detectives had investigated about 100 leads from northern Maine to as far away as the Midwest but hadn't had any luck in identifying the boy.

"We're pleading to the public to help us identify this boy," said Col. Robert Williams, state police chief. "Somebody out there knows who this boy is."

In addition to checking out tips, state police were reviewing surveillance video from businesses on both sides of the Maine-New Hampshire state line, as well as looking for a blue Toyota Tacoma pickup that was spotted in the area where the body was discovered.

Investigators believe the boy died a couple of hours before his body was placed along the road Saturday morning; he was discovered around 5 p.m., said Steve McCausland, spokesman for the Maine Department of Public Safety.

The death was deemed suspicious, but investigators withheld autopsy findings. Identifying the boy is a key step to moving the investigation forward.

Tips began pouring in after investigators released a computer-generated depiction of the boy on Sunday. By Monday, however, his identity remained a mystery.

"Everybody in New England knows the boy's face. Now we need a name to go with the face," McCausland said.

The same person who found the body also reported the blue pickup truck, said state police Lt. Brian McDonough.

While expressing frustration with the difficulties in identifying the boy, McDonough said he was confident that state police were handling the case by the books and that someone would eventually report him missing.

State Police Sgt. Chris Harriman said the boy appeared to be healthy and cared for before his death. He was 3 feet, 8 inches tall and weighed 45 pounds.

Police hoped the boy would be missed at school, kindergarten or pre-school, but that didn't happen Monday.

Neighbors, meanwhile, were unnerved by the death in this town that borders New Hampshire.

Lorraine Tuttle, who lives on a farm 300 yards from the site where the boy was found, said neighbors love the peace and quiet. It was unsettling to have dozens of police cars and television news trucks on their road.

"I'm very upset about the loss of such a young life," she said. "No one wants to have something like that happen in their neighborhood. It does change your life one way or another."

http://www.ajc.com/news/nation-world/maine-police-investigate-100-948081.html

_________________
We come to love not by finding a perfect person, but by learning to see an imperfect person perfectly
Oh my gosh! This is so sad. A little boy 4-6 yrs old is dead and no one seems to be looking for him.
He appeared to be healthy and cared for before his death
. I wonder if the autopsy will show signs of abuse - even if not outwardly apparent?
I hope someone misses him soon and comes forward!
_________________
~Where the heart is willing, it will find a thousand ways. Where it is unwilling, it will find a thousand
excuses." ~
"Do not save your loving speeches
For your friends till they are dead;
Do not write them on their tombstones,
Speak them rather now instead."
- Anna Cummins
This is horrible! Someone isn't missing this precious little boy.

Piper




Posts

: 10277


Join date

: 2009-07-12


Mood

:



There is a little boy named Timothy Pitzen missing from Aurora, Wisconsin.........he looks similar, Timothy is 6. We need to get his story on our missing page.
Cops: Evidence may suggest mom left missing boy with acquaintance
By Andy Grimm and Gerry Smith
Tribune reporters
12:26 p.m. EDT, May 17, 2011
Picked up from school by his mother, an Aurora boy embarked on a whirlwind journey -- a trip to Brookfield Zoo followed by back-to-back visits to popular water parks.
But 6-year-old Timothy Pitzen has not been seen since Friday morning, when his mother checked them out of the Kalahari Resort in the Wisconsin Dells.
http://www.wsbt.com/news/chibrknews-grandmother-of-missing-boy-we-dont-know-if-hes-alive-or-dead-20110516,0,7592989.story

Piper




Posts

: 10277


Join date

: 2009-07-12


Mood

:



The little boy's body that was found has been identified and his mother is in custody.

I just heard this on HLN.


_________________
"Children are the hands by which we take hold of heaven" -----Henry Ward Beecher


sitemama

Admin




Posts

: 29916


Join date

: 2009-07-09


Age

: 77


Location

: Caldwell/Catawba County, NC


Mood

:



sitemama wrote:The little boy's body that was found has been identified and his mother is in custody.

I just heard this on HLN.

The little boy's name is Camden Pierce Hughes.
This has got to stop...

Sherry




Posts

: 1898


Join date

: 2009-10-17


Mood

:



Bad news, so very sad. Another mother....Rest in peace little Camden.

Piper




Posts

: 10277


Join date

: 2009-07-12


Mood

:



I saw last night that she overdosed him on cough syrup. They were from Texas and she drove to Maine, they think she may have originally been from that area. They have her in a mental ward examining her. She told LE that she wanted to kill herself. Poor little Camden.

Piper




Posts

: 10277


Join date

: 2009-07-12


Mood

:



Accused of murdering son: Juli McCrery's friend, mom say she 'seemed normal'

May 19th, 2011 11:25 am ET .


CONCORD, Massachusetts (Isabelle Zehnder reporting) -- On Tuesday, the day before Juliane "Juli" McCrery was arrested and charged in the murder of her 6-year-old son Camden, she talked to her mother and to a friend – they both said nothing seemed out of the ordinary and that McCrery seemed normal.

The world was introduced to 6-year-old Camden Pierce Hughes first in a computer-generated photo created after he had died. The photo was not easy to look at nor was it easy to disseminate, but law enforcement asked that it be distributed in hopes of determining the identity of the child.

The discovery of the little boy's body wrapped in a blanket and left on the side of Dennett Road in South Berwick, Maine on Saturday generated thousands of online posts from people sharing the photo and their grief over the gruesome and sad discovery.

News that Camden's mother had been found in a truck parked at a rest stop on Wednesday morning, and that she had admitted to killing him, rocked the nation. McCrery first told police Camdem died because she gave him too much cough syrup.

Police found her sitting inside her truck reading the bible. When asked if she needed assistance, McCrery said, "I just killed my son, I want to kill myself."

Later on Wednesday news broke that the initial autopsy report indicated Camden's death was a result of asphyxiation and was considered a homicide. People were in shock to learn that Camden allegedly died at the hands of his own mother, who had previously lied about the cause of his death.



Continue reading on Examiner.com: Accused of murdering son: Juli McCrery's friend, mom say she 'seemed normal' - National missing persons | Examiner.com http://www.examiner.com/missing-persons-in-national/accused-of-murdering-son-juli-mccrery-s-friend-mom-say-she-seemed-normal#ixzz1Mq8ILKLq

Piper




Posts

: 10277


Join date

: 2009-07-12


Mood

:



http://new.bangordailynews.com/2011/05/18/news/report-person-in-custody-in-death-of-boy-found-along-south-berwick-road/

Julianne McCrery, 42, of Irving, Texas, was charged with second-degree murder Wednesday in the death of her son, Camden Hughes. The police apprehension of her earlier in the day set off a rapid-fire chain of events in which jurisdiction shifted from Maine, where the boy's body was discovered, to Massachusetts, where McCrery was found and questioned, and finally to New Hampshire, where authorities believe the boy died and the formal charges were ultimately filed.

McCrery was due to be arraigned Thursday morning in Concord, Mass., on a charge of being a fugitive from justice stemming from the murder charge, said New Hampshire Attorney General Michael A. Delaney.

Preliminary autopsy findings showed that the cause of Camden's death was asphyxiation and the manner of death was homicide, according to Maine's chief medical


Christian von Atzigen, of Irving, Texas, said he told police he recognized the boy as the son of McCrery, a woman he and his wife have been close friends with since she and his wife met in school 15 years ago.

"We didn't want to believe it," von Atzigen said.

"Julie's a good person. If you would ever ask me if she would harm a hair on that precious little boy's head, I would say never," he told The Associated Press. "She loves that boy."

Von Atzigen said that after McCrery and her husband divorced, he and his wife remained friends with both of them. He said Camden was a happy boy, and he never heard McCrery raise her voice to him.

Photos of Camden and a video in this link~

Sherry




Posts

: 1898


Join date

: 2009-10-17


Mood

:




---
Permissions in this forum:
You
cannot
reply to topics in this forum